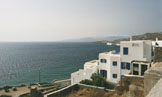 The Kouros Hotel, our fabulous abode during our stay in Mykonos.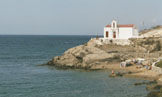 The view from our balcony at the Kouros includes one of the many churches on the island. Mykoniots claim that exactly 365 churches and chapels dot their landscape, one for each day of the year.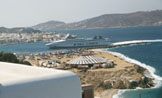 View of Mykonos Town from our balcony at the Kouros. The very large ship is one the inter-island ferries.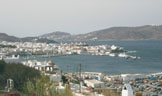 Mykonos Town.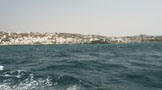 Mykonos Town as seen from the Delos ferry.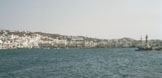 Beautiful Chora with its dazzling white cuboid houses, quaint churches and windmills. Its sparse landscape has rapidly developed into one of the most famous vacation spots in Greece and symbol of the picturesque Aegean.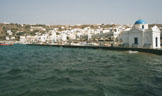 Mykonos Town.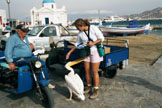 We were lucky enough to see the town mascot, Petros the Pelican and his mate, Irini, along the waterfront where the boats dock. In the 1950s, a group of migrating pelicans passed over Mykonos leaving behind one exhausted bird. Vassilis the fisherman nursed it back to health. This is his successor, enjoying the spotlight and carrying on the tradition.

The bust of Mando Mavroyennis, the island heroine, stands on a pedestal in the main square in Mykonos Town. In the War of Independence, the Mykoniots, known for their naval and seafaring skills, volunteered an armada of 24 ships, and in 1822, when the Ottomans later landed a force on the island, Mavroyennis and her soldiers forced them back to their ships.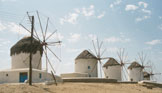 One of the principal characteristics of the landscape of Chora are the windmills with their solid cylindrical form and light sails. Their familiar silhouettes enhance to the utmost the picturesque aspect of Mykonos.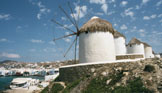 Little Venice and the lower windmills (Kato Myloi). The windmills were used to grind the island's grain.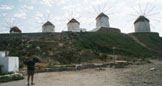 The lower windmills as seen from Little Venice.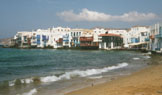 Many of the early ship captains built distinguished homes with wooden balconies over the water at the southwest end of the port. A few of the old houses have been turned into stylish bars. This stretch of waterfront homes, cafes, and bars is now called Little Venice, although its real name is AlefkŠndhra.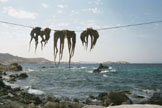 Octopus... it's what's for dinner... although not my dinner. I prefer swordfish!

J

These were hanging to dry at a small restaurant near the lower windmills and Little Venice.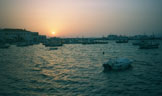 The sunset as seen from Mykonos Town.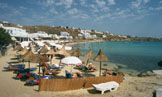 The best beaches on Mykonos are located on the south side of the island where they are sheltered from the prevailing wind. Platis Gialos, pictured here, is just one of the many beaches on the south side.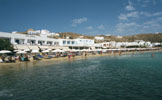 Platis Gialos, perhaps the most frequented beach of Mykonos.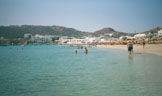 Platis Gialos.