Herakleion
Herakleion (Iraklion) is the largest town in Crete, the capital of the Prefecture of Herakleion and the administrative capital of the entire island. It lies almost in the middle of the north coast and was built on the site of the small harbor which was the seaport of Knossos. Much later, this small harbor became an important fortified town under the Arabs who held it for a period of 100 years (824 - 961 CE). It soon became the slave trade center in the Mediterranean, to be soon after taken over by the Venetians who built immense fortification walls, that stand intact even today. During the four centuries (1204 - 1699) of the Venetian occupation of Crete, many buildings were erected that are excellent examples of Venetian Architecture of that time. Many of them still exist today.

Click on the thumbnails below in order to see pictures of Herakleion. Use your browser's back button to return to this page.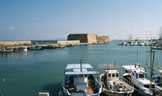 The Castle or Koulés is a miniature 16th century fortress built at the entrance of the old Venetian port, the inner harbor, in order to protect it from raids.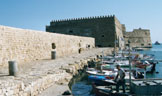 The name Koulés is a Turkish name. The Venetians called it Rocca al Mare.

On the sides of the Koulés are fragments of carved lions of Saint Mark, symbols of Venetian imperialism, which used to adorn the wall. This particular lion looks to be a very popular bird roosting spot.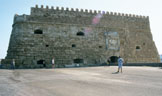 Main entrance to the Koulés.

The stone-carved Lion of Saint Mark located above the main entrance.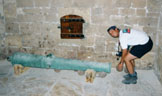 Jeff loads a canon inside the Koulés.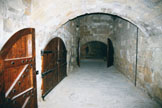 The doors and corridors inside the Koulés.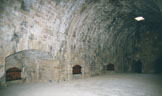 Inside the Koulés.
Anchors inside the Koulés.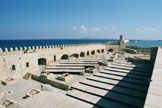 The top of the Koulés. In the background is the small tower with a circular staircase that we climbed.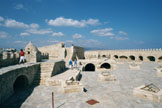 The top of the Koulés.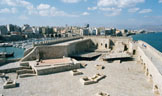 The view from the battlements of the Koulés takes in the ocean, the inner harbor and the sprawling labyrinth of concrete apartment blocks that is modern Herakleion.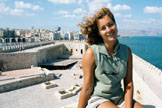 Sitting on the tower of the Koulés.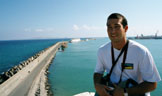 View of the concrete wharf in the outer harbor, where freighters and passenger ferries drop anchor, as seen from the tower of the Koulés.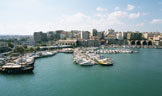 The inner harbor as seen from the top of the Koulés. To the right are the tall, vaulted tunnels of the Arsenal where Venetian galleys were repaired and refitted and timber, cheeses, and sweet malmsey wine were loaded for the three week-voyage to Venice.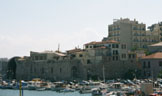 The Lato Hotel (right) was our home for the two nights that we spent in Herakleion. More Arsenals are visible at bottom left.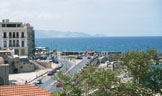 View of the ocean from the balcony of our room in the Lato Hotel.
| | | |
| --- | --- | --- |
| | | |
| | | |
| | | |
© All pictures are Copyright 2000 Grisel Gonzalez and Jeff Prosise