The landforms in Sedona are not permanent. Although they may be rock solid, over eons they will be relentlessly worn away by erosion. All of the mesas, buttes, and spires in the Red Rock Country were part of a much larger expanse of land called a plateau. In essence, a plateau is dissected by erosion into several mesas. These mesas are in turn eroded into buttes which, with continued erosion, narrow to spires which are finally reduced to nothing.
Much of the unique scenic appeal of the Sedona region is traceable to its geology. Ten rock units were deposited, over time, in layer-cake fashion. The Red Rock Country derives its name from three colorful rock units that are dramatically exposed in the area: the Supai Group, Hermit Formation and Schnebly Hill Formation.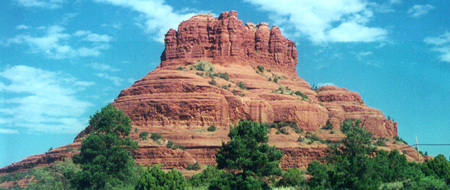 This landmark south of Sedona is one of the famed Vortex spots. Classified by geologists as a butte - a conspicuous, isolated hill, often turret-shaped, with precipitous sides - Bell Rock stands north of the Village of Oakcreek and rises about 550 feet above the surrounding terrain. Its summit elevation is 4,919 feet above sea level. Bell Rock was carved by the forces of erosion out of the Schnebly Hill Formation.