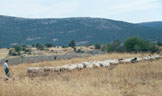 Shepherd and flock seen on the way from Tiryns to Nauplion.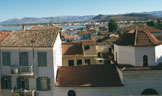 View of Nauplion from our hotel window.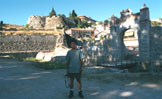 Akronafplía, a.k.a. Its Kale ("Inner Castle" in Turkish) was the site of the Byzantine and early medieval town and contains four castles built in sequence from west to east. The most interesting site is the Venetian Lion of St. Mark relief over the 15th century gate.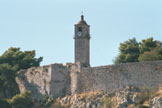 The westernmost castle of the Akronafplía, the "Caste of the Greeks", was Nauplion's ancient acropolis and is now home to the clock tower, a major landmark.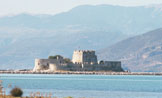 The fortified isle of Bourtzi, located northwest of Nauplion harbor. It defended the only navigable passage in the bay. The channel could be closed off by a chain extending from the fortress to the town.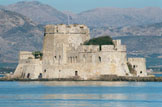 Isle of Bourtzi. This island fortress acquired its appearance during the second Venetian occupation and, until 1930, had the dubious distinction of being the local executioner's residence.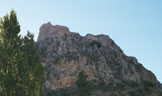 Palamídi Fortress is a huge Venetian citadel built between 1711 and 1714.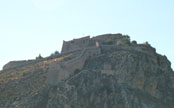 Palamídi Fortress.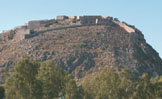 Palamídi Fortress, the largest such complex in Greece, consists of a single curtain wall enclosing seven self-sufficient forts, now named after Greek heroes.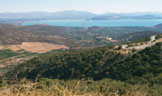 Bay of Nauplion.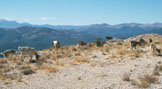 One of the many goat herds that we saw while driving around Greece. This one was seen on the way from Nauplion to Olympia. All of that feta cheese has to come from somewhere...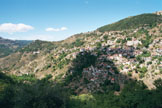 One of the many small towns nestled amongst the mountains that we passed on the road from Nauplion to Olympia.