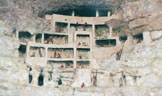 A model of what Montezuma Castle may have looked liked when the Sinagua Indians lived there during the 12th century.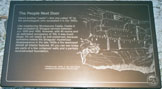 A reconstruction of Castle A, the home of Montezuma Castle's neighbors.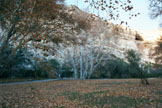 A short distance west of Montezuma Castle (right) is Castle A (left), once an imposing six-story apartment with about 45 rooms, now a badly deteriorated ruin.

Like neighboring Montezuma Castle, Castle A was occupied by Sinagua farmers between 1200 and 1450 CE. However, with its 45 rooms and an estimated occupancy of 100, it was over twice as large. It was named Castle A by the archeologists who excavated it in the 1930s.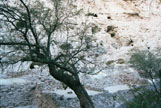 Castle A is not as well preserved as Montezuma Castle, because in the late 1400s a fire destroyed almost all of the interior features. All that remain today are parts of a few collapsed walls and a partially reconstructed foundation.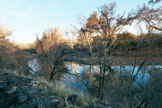 Beaver Creek provided a reliable source of water for the Sinaguans who settled here.